Sand preparation units with hydrocyclone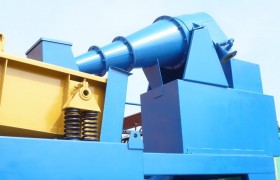 The sand preparation units with hydrocyclone have been conceived and produced for washing, screening, drying and the recovery of sand in the pulp that formed with the washing-process of aggrgate. The cycle of work represented in picture. The pulp composed of water, sand, silt, lime and filler, introduced in the recovery tank V. The pump P draws the pulp and sentin pressure into the hydrocyclone I with tangential direction.
With the centrifugation of pulp effect the separation: water, lime, clay and filler flow into one auxiliary-tank VA, while the sand go-out of hidrocyclone I and descharged on the vibrating drier VB equiped with a drainage-plane inclined in top way of direction feed of material. The vibrating drier VB drain water into sand  and non-wetting sand descharged down and transported out with a conveyor belt. The level of pulp into the recovery-tank V held a uniform position with the floater G, which opens and shuts the valve for the mixture (sand and water) recovery, so the feeding of the hydrocyclone is uniform and regular.