Bucket recovery and dewatering machinery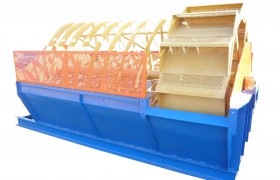 The bucket recovery and dewatering machine is used for the recovery of sands. The machine comprises a decantation basin in which a wheel with  perforated buckets and an Archimedean screw rotate.
A special spillways system, located on the opposite side of the load, allows a slow and calm discharge of the muddy water, making the decantation of the extra fine materials easy. The motion of the bucket wheel is generated by  a geared motor unit dovetailed to the shaft where the wheel and the screw are fasten. If the material to treat is particularly dirty, the bucket recovery and dewatering machine can be supplied with further bucket wheels which ensure a better cleaning of the sands by pouring the sand from one wheel to the other and by letting in a clean water stream.