Crusher VSI -Vertical Shaft Impactor- MAG'Impact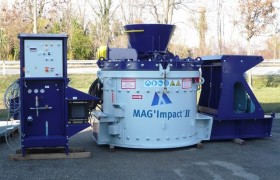 MAG'Impact is a high performance impact crusher entirely made by the group
MAGOTTEAUX.
MAG'Impact is a true VSI ( Vertical Shaft Impactor).
CHARACTERISTICS:
highest cubic capacity for produced aggregates.
easy to change crushing ratio, thus the equipment can be easy adjusted in order to respond to the demands of the process.
constant product quality (dimension and shape), regardless of the wear degree and the produced quantity.
high production capacity (up to 500 t/h).
loading with material up to 180 mm.
reasonable cost for wear, even when crushing abrasive materials.
minimum discontinuance due to easy access to the spare parts.
low energy consumption.
 high quality spare parts, designed to meet the work conditions.
XWin : matrix for composite metals.
OPERATING PRINCIPLE:
 The material to be crushed is introduced into a crusher through the loading valve.
It falls into a distributor resistant to wear located in the centre of the rotating board.
The paddles situated on the rotating board send to the aggregates the necessary energy for them to be cast towards the anvils located on the peripheral ring.
Different models of paddles and anvils  are available depending on the material to be broken and on the breaking process.